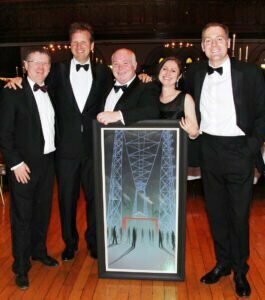 A fundraising dinner which celebrated the centenary of the Transporter Bridge has raised more than £40,000 for local charity the Middlesbrough and Teesside Philanthropic Foundation.
The sell-out event at Middlesbrough Town Hall was supported and attended by a number of leading businesses and individuals who boosted charity funds by bidding in an auction hosted by foundation chairman Andy Preston.
Andy brought the hammer down on a number of sought-after lots, most notably a generous donation from world-renowned artist Mackenzie Thorpe.
Middlesbrough born Mackenzie gave an inspirational talk which spoke of his love for the town and gave an original painting entitled 'Lady of the North' featuring the Transporter Bridge which raised a fantastic £15,250.
Also in demand during the auction were limited edition gold commemorative coins which were specially commissioned by Teesside based Ramsdens Financial Ltd to celebrate the centenary of the Tees Transporter Bridge.
The evening also included comedy from BBC TV's impressionist and comedian Kevin Connelly.
Andy said: "We really are very grateful to everyone who supported and attended the dinner.

"The evening was a real success and raised a lot of money for the Foundation which will be used to help local people. Events like this demonstrate the fact that people are willing to help others and indeed will pull out all the stops for good causes."
Since its launch just over six months ago the charity has raised more than £170,000 and helped a number of local groups and individuals including an amateur boxing club in Southbank, a pensioner's bingo club in Stokesley and an apprenticeship scheme which helps young people into work.