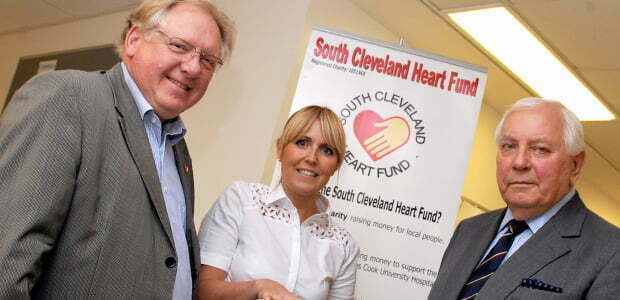 A charity that has raised more than £1.3 million to ensure the Teesside public has a world-leading heart unit on its doorstep has been given a timely boost by local business leaders.
South Cleveland Heart Fund supports the work of James Cook University Hospital's Cardiothoracic Unit, ensuring the regional centre remains at the leading edge of care for heart patients.
Now it has received a £2,000 donation from Middlesbrough and Teesside Philanthropic Foundation, whose generous patrons include local companies and business leaders.
Foundation patron Barney Ord, chairman of one of Teesside's most long established engineering firms, Fairfield Industries, paid a visit the centre to present the cash.
Mr Ord, who lost his wife Jess to heart disease last year, paid tribute to the care she had received and expressed his determination to help the Heart Fund all he could.
"I am very proud of being from Middlesbrough," he said. "This hospital – and especially this unit – is the jewel in the crown for Teesside and we have to do all we can to ensure it continues to sparkle.
"The care my wife received from the amazing people we have here on Teesside was fantastic and I'll be forever grateful for it.
"Supporting charities like this one that are here for the benefit for all of us across Teesside is exactly why I am proud to be involved with the Philanthropic Foundation."
Heart Fund chairman Adrian Davies, who was consultant cardiologist for more than 30 years until his retirement two years ago, said the charity was committed to supporting a unit that acts as the regional centre covering a catchment area of 1.6 million people from as far afield as Sunderland, Carlisle, Scarborough and Ripon.
Funds raised were used for the purchase of equipment, improving facilities for patients and carers, and to provide staff grants for training courses, study programmes and research, none of which is available via the NHS.
"Having been involved with this unit from the very start, this is my baby," he admitted. "I have always been and will always be passionate about it. It's vital that we do all we can to ensure it remains one of the very best in the country.
"I hope I never need it but if I do, I'll be glad it's here. The facts are that Teesside's population has a higher risk of heart disease than almost any other area in the UK.
"Nowadays, the vast majority of us will get either heart disease or cancer so there's a likelihood that many of us will need the unit at some point.
"It's very important to the Fund we receive donations like this one from the Foundation."
For more details about South Cleveland Heart Fund, visit www.schf.org.uk
Among the patrons of Middlesbrough and Teesside Philanthropic Foundation are Middlesbrough Football Club, SABIC, Active Financial, Devereux, Ramsdens, Bulkhaul, Macks Solicitors, Erimus Insurance Brokers, Cleveland Cable Company, AV Dawson, Endeavour Partnership, Evolution, px Group, Unasys, Davies Tracey & Co, Cool Blue, Onyx Group and Visualsoft. For more details visit www.teessidecharity.org.uk