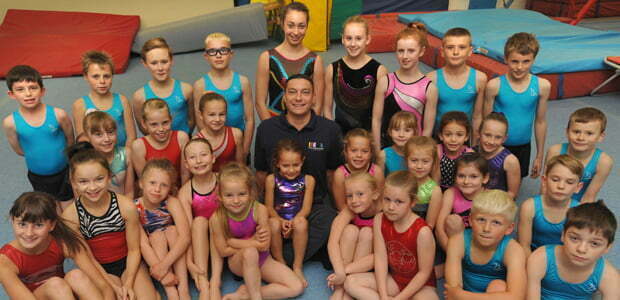 DOZENS of Redcar children have taken a tumble as the result of leading Teesside businesses – but they are all jumping for joy!
Redcar School of Gymnastics has taken delivery of a new state-of-the-art tumble track, thanks to a generous £1,000 donation by Middlesbrough and Teesside Philanthropic Foundation.
A charitable movement committed to making Teesside a better place to live, work and do business, the Foundation has raised more than £450,000 in just three years through the financial support of local companies and individuals.
Senior coach Diane Richardson says all at the long-established gymnastics club are doing somersaults after the charity helped them buy the £10,000 track.
She said: "We're so grateful for the Foundation's kind support. Gymnastics equipment can be expensive so members, parents and volunteers have been fundraising to buy the tumble track for some time.
"It will be invaluable in allowing our gymnasts to safely develop their skills, from the most basic back flip all the way up to complex connections that can include several different tumbles combined to make one long routine."
Nigel Willis, managing director of the Foundation's newest corporate patrons, Redcar-based First Choice Labels, paid a special visit to the gymnastics school to see members in action on the new track.
Nigel, whose daughters Amy, nine, and Ellen, six, both attend the club, said: "The Foundation is delighted to support such a great community asset.
"As a proud owner of a Redcar business, it's fantastic to see clubs like this one thriving. The volunteers who run the school provide an amazing facility to an incredible number of kids.
"The club represents Redcar in tournaments across a wide area, from Newcastle to Harrogate to Carlisle, and always give a hugely positive impression of the town.
They also regularly host visitors from across the region, so they are helping to spread the word about Redcar and Teesside as a whole."
Run on a voluntary basis by fully-qualified coaches, Redcar School of Gymnastics is open seven a week to provide classes for all ages and abilities.
Formed in 1966, the club's former homes include church halls, terraced houses and schools. Now it has outgrown its home of almost 30 years on Kirkleatham Street and is looking for a new base.
While the school's thriving girls' section has developed top names over the years, the fast-growing boys' section is gaining a big reputation on the tumbling scene, with 11-year-old William Todd ranked second in the UK.
Winner of the Heart of the Community award for the Teesside region in the prestigious North East Business Awards, the Philanthropic Foundation has recently set up Middlesbrough Homeless Football Club, gave £41,000 for local charities and schools via the UK's biggest art competition and has helped to fund 37 local apprenticeships.
Along with First Choice Labels, the Philanthropic Foundation's generous corporate patrons include AV Dawson, Active Financial Services, Devereux Transport, SABIC, Evolution, Visualsoft, Middlesbrough FC, Endeavour Partnership, Onyx Group, Unasys, Cleveland Cable Company, Bulkhaul, Macks Solicitors, px Group, Glanbia Nutritionals, Cool Blue and Erimus Insurance Brokers.
Individual patrons are Andy Preston, Nigel Williams, Ian Tracey, Mark Bolland, John McCullagh, Rob McLaughlin, Ali Miremadi, Steve Nichols, Barney Ord, Bill Scott, Simon Scotchbrook and the Sizer Family.