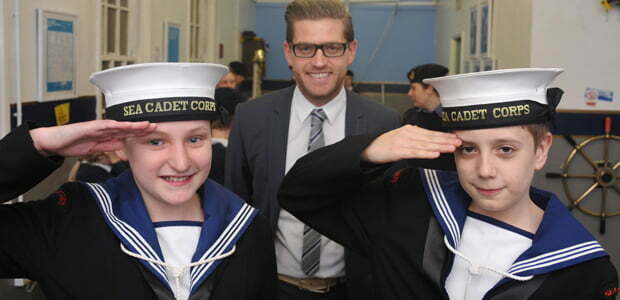 TEN Teesside community champions have been selected to receive a share of £10,000 – but now face a public vote to decide just how much they will receive.
More than 50 charities, community groups and schools applied for Middlesbrough and Teesside Philanthropic Foundation's Boro-backed £10,000 Goalden Giveaway.
A panel of the charity's patrons have drawn up a shortlist of 10, who must now encourage their supporters to vote for them in a public poll on Middlesbrough Football Club's official website.
Foundation patrons Glanbia, the global nutritionals manufacturer with a big base on Riverside Park in Middlesbrough, helped kick off the voting with a visit to maritime youth charity, the Sea Cadets, one of the 10 lucky causes shortlisted by the panel.
Glanbia's UK sales manager Andy Bott called in on the Stockton-on-Tees branch of the Sea Cadets, based in Thornaby, to meet the young people who attend the project and the big-hearted volunteers who run it.
The Sea Cadets offer young Teessiders opportunities for personal development by going to sea, learning to sail and taking part in nautical adventure training.
The Stockton, Middlesbrough and Hartlepool branches of the Sea Cadets will all gain from the £10,000 Goalden Giveaway.
Andy said: "It was wonderful to see at first hand the great work the Sea Cadets do for young people across Teesside. It's clear they gain in confidence and learn life skills that will stand them in good stead for many years to come.
"As many of our staff live and work on Teesside, Glanbia is proud to be a corporate patron of the Philanthropic Foundation and to be supporting so many great local causes."
The full list of Teesside causes selected for the public vote in the £10,000 Goalden Giveaway is:
• Tees Wheelyboats Club – to enable the club to continue to provide greater
comfort and facilities to those less able to access the river by conventional
means.
Redcar Development Trust – to set up of two new projects – for socially isolated older people and a non-contact boxing club for under-10s.
Sea Cadets – to fund new boating and musical equipment.
Tees Valley Wheelchair Sports Club – for wheelchairs to expand the project across the region.
Middlesbrough District Scouts – towards a minibus to help the Scouts get about.
Freebrough Academy – to help develop their business and enterprise specialism.
MAIN (Taking Autism Personally) – to allow their team to devote more time to working directly with families and individuals.
The Unicorn Centre Riding for the Disabled – for two specialist saddles for ponies for disabled riders.
Middlesbrough Disabled Supporters Association – for maintenance and fuel costs of a minibus to transport members to home and away games.
South Cleveland Heart Fund – to purchase equipment for the heart unit at James Cook University Hospital.
Boro fans and supporters of the 10 finalists next have an opportunity to vote via the club's official website at mfc.co.uk for the good cause they believe most deserves the money.
The charity receiving most votes will receive £2,500 together with a visit from two Boro first team stars.
The second-placed charity will receive £1,500 and those placed third to fifth £1,000. There'll be £750 for the charities getting the sixth and seventh most votes and £500 for the remaining good causes.
The public vote opens on mfc.co.uk on Monday, December 9 and finishes at 11pm on Saturday, December 14 after Boro's home game against Brighton.
The Goalden Giveaway panel included representatives of several of the Philanthropic Foundation's patrons including Middlesbrough FC chief operating officer Mark Ellis, Rachel Best, new business development director of Glanbia Nutritionals, Nick Mack, MD of Macks Solicitors, Claire Watson, UK HR director of SABIC and Foundation chairman Andy Preston.
Nick Mack said: "Drawing up a shortlist from so many outstanding applications was incredibly tough. There are so many wonderful community projects across Teesside and it's great to know that the Foundation will be boosting 10 of them."
Along with Boro, Bulkhaul, Glanbia, Macks and SABIC, the Philanthropic Foundation's generous corporate patrons include AV Dawson, Active Financial Services, Devereux Transport, Evolution, Visualsoft, First Choice Labels, Endeavour Partnership, Onyx Group, Unasys, Cleveland Cable Company, px Group, Cool Blue and Erimus Insurance Brokers.