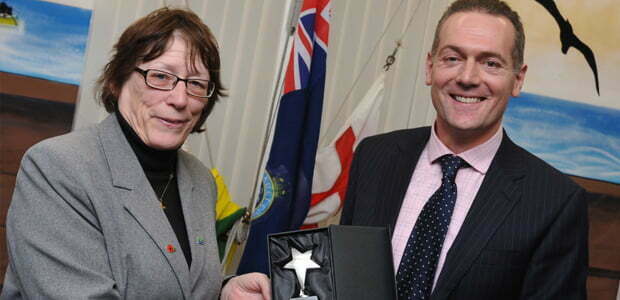 COMMUNITY champion Liz Chambers has become the second recipient of a Teesside Heroes Award in recognition of more than 40 years as a volunteer.
Liz was described as "a community-minded doer" by Andy Preston when the chairman of Middlesbrough and Teesside Philanthropic Foundation presented her with her award.
She received a gleaming trophy and £1,000 for a good cause of her choice – which she immediately passed on to Middlesbrough Sea Cadets.
Liz has been an active volunteer since helping to form the Girls Nautical Training Corps in Middlesbrough when she was a teenager in 1973.
That same year she joined Middlesbrough Sea Cadets, using the traditions of the Royal Navy to help children train to become responsible adults.
In 2001, whilst serving as branch secretary of the Sea Cadets, she accepted a request to become chairman of the organisation to prevent it from having to close owing to lack of funding.
After the Cadets moved homes from St Oswald's Church to the Coulby Newham TA Centre and on to the West Lodge in Albert Park, Liz was instrumental in securing them a permanent home for the first time in their 70-year history when work was completed to renovate the park's East Lodge in 2012.
Liz was the Cadets' Teesside district chairman until standing down in November last year, whilst she remains Northern area deputy chairman for the Marine Society and Sea Cadets, covering 18 Sea Cadets units across Teesside, Northumberland and south Tyneside.
Away from the Cadets, she is also chairman of the Friends of Smith's Dock Park War Memorial, Chairman of Smith's Dock Park Trust, welfare officer for the Combined Services Association, welfare visitor for the local branch of the British Korean Veterans Association, war pension support visitor for the Veterans Agency in Leeds.
For nine years she was branch secretary, Poppy Appeal organiser and welfare officer of the Royal British Legion.
Liz also played a leading role in ensuring Middlesbrough's annual Battle of Britain parade continued when the tradition faced a crisis, helping to form the Middlesbrough Military
Celebratory Association (MMCA) was formed with an agenda to ensure all local military parades were respectfully commemorated.
The MMCA went on to organise parades to mark the 90th anniversary of the Battle of the Somme, 60th anniversary of the Auschwitz holocaust survivors, VE and VJ days and 11.11.11.
Paying tribute to her at the presentation in the Sea Cadets' Albert Park headquarters that are just one of the results of her tireless community work, Andy Preston said: "What every town that wants to improve needs are community-minded doers who are willing to selflessly give up their time and energy for the benefit of others.
"Thankfully, there are lots of them out there across Teesside but Liz stands out as someone who has added huge value to the youngsters and families whose lives are touched by the Sea Cadets, to the Sea Cadets as a whole and to Teesside itself.
"She typifies exactly what the Teesside Heroes scheme is all about, giving richly-deserved acclaim to unsung community heroes who don't get praise. I really hope receiving the accolade made her feel great."
Liz, who plans to retire from voluntary service due to ill-health after celebrating her 59th birthday in July, described receiving the award as "an unbelievable honour"
She said: "I am still in shock but it was a fantastic surprise and I am very humbled that I have been chosen."
Liz also received dinner vouchers donated by Middlesbrough's Al Forno restaurant, while her name will be added alongside those of other Teesside Heroes on the Boro Brick Road outside the Riverside Stadium.
Set up to make Teesside a better place to live, work and do business, the Philanthropic Foundation is asking members of the public to nominate more community champions for a Teesside Heroes award. Nominations can be made via email on info@teessidecharity.org.uk. Please include the nominee's name and up to 300 words on why they deserve the accolade.