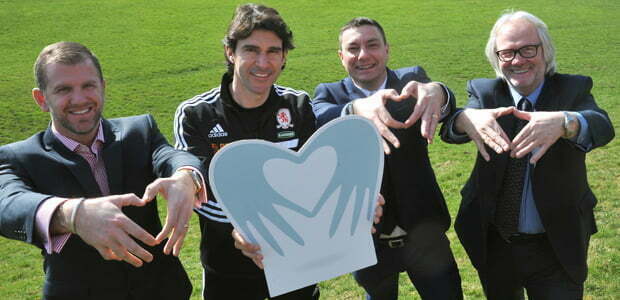 A TEESSIDE charity, community group or school can win a visit from Boro boss Aitor Karanka – and £2,500!
That's the top prize in the second £10,000 Goalden Giveaway, with 10 of the best local causes set to benefit to the tune of at least £500.
The £10,000 fund is being made available by Middlesbrough and Teesside Philanthropic Foundation that includes Middlesbrough FC and Steve Gibson's Bulkhaul among its patrons.
The money will be split between 10 charities, community groups and schools – with dozens of local good causes expected to apply to make the shortlist.
The initiative follows a similar Goalden Giveaway that attracted applications from almost 50 organisations across Teesside, with Tees Valley Wheelchair Sports Club topping a poll to win £2,500 and a visit from Boro stars to their Middlesbrough centre.
Foundation chairman and lifelong Boro fan Andy Preston and MFC's chief operating officer Mark Ellis will lead a selection panel that faces the tough task of choosing the 10-strong shortlist.
Also on the panel will be representatives of some of Middlesbrough FC's fellow Foundation patrons that include many of Teesside's leading companies.
Boro fans and supporters of the good causes will then have an opportunity to vote via the Foundation's official website at www.teessidecharity.org.uk for the good cause they believe most deserves the money.
The charity receiving most votes will receive £2,500 together with a visit from head coach Karanka.
The second-placed charity will receive £1,500 and those placed third to fifth £1,000. There'll be £750 for the charities getting the sixth and seventh most votes and £500 for the remaining good causes.
The organization receiving most votes will also win a visit from two Boro first team stars, while cheques will be presented at an event at the Riverside Stadium.
Foundation chairman Andy said: "Thanks to Boro's support, our first £10,000 Goalden Giveaway proved to be hugely popular – so we've decided to do it all again!
"It's an exciting way to donate money to some of Teesside's amazing community groups that need our help, get the public involved in our Foundation and raise the profile of our charity and the various community groups that take part.
"We're thrilled that Aitor Karanka has kindly agreed to give up some of his own time to make the top prize extra special."
To apply to take part, organisations should send an email, titled £10,000 Goalden Giveaway, to info@teessidecharity.org.uk, giving up to 300 words on how they would spend the money. Those involved in the previous Goalden Giveaway poll cannot apply a second time.
Those applying should include their name, title, organization, email and telephone number. The deadline for entries has been extended to Friday, March 28 2014. The online vote is expected to take place in mid-April.
Along with Boro and Bulkhaul, the Philanthropic Foundation's generous corporate patrons include AV Dawson, Active Financial Services, Devereux Transport, SABIC, Evolution, Visualsoft, First Choice Labels, Endeavour Partnership, Onyx Group, Unasys, Cleveland Cable Company, Macks Solicitors, px Group, Glanbia Nutritionals, Cool Blue and Erimus Insurance Brokers.
Individual patrons are Andy Preston, Nigel Williams, Ian Tracey, Mark Bolland, John McCullagh, Rob McLaughlin, Ali Miremadi, Steve Nichols, Barney Ord, Bill Scott, Simon Scotchbrook and the Sizer Family.