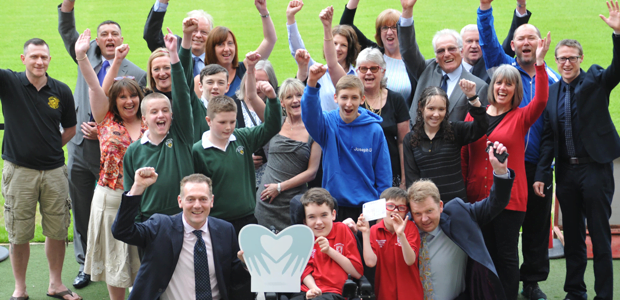 Community champions gathered at Middlesbrough FC's Riverside Stadium as £10,000 was handed out in a Goalden Giveaway.
The event saw Middlesbrough and Teesside Philanthropic Foundation donate funds to 10 local charities, community groups and schools who took part in a public poll to win the cash.
Representatives of the Foundation's patrons, who have helped raise more than £600,000 for Teesside good causes in just three years, presented the cheques.
Receiving the biggest share of the Boro-backed Goalden Giveaway were Middlesbrough Powerchair Football Club, who received a cheque for £2,500.
Young powerchair players Owen Swift and Oscar Mulgrew received the cheque from Glyn Pemberton of Foundation patrons Active Chartered Financial Planners.
The much-needed funds will cover hire and transport costs for powerchair football sessions in local schools for children and young people with severe physical disabilities.
The school will also receive a visit from Boro manager Aitor Karanka.
Meanwhile, Teesside Samaritans received £1,500 to help the service expand activities for those in emotional distress and raise its profile in local primary and secondary schools.
Nick Mack of Macks Solicitors presented £1,500 to the Samaritans' Sarah Holmes and Margaret Horrocks at the Riverside event.
And the Friends of Sedgefield Harriers were given a £1,000 cash boost towards their dream of building a new track for athletes from a wide area including Stockton, Hartlepool and Durham.
Rachael Best of Middlesbrough-based Foundation patrons Glanbia Performance Nutrition handed over £1,000 to Sedgefield Harriers representative Joseph Dredge.
Also receiving a share of the cash were:
Fresh Expressions – Margaret Morrell and Stewart Shaller received a £1,000 from Dave Henderson of the px Group to help the church youth group provide football, snooker, table tennis, air hockey, arts and crafts for 7 to 14 year-olds in Acklam and Linthorpe.
The Applegarth Centre at Laurence Jackson School – Nigel Willis of Redcar's First Choice Labels presented £1,000 to students Matthew Dean, Matthew Story and Matthew Morton to provide physical activities for children with autism at an after-school club and purchase sensory equipment.
Impact Fitness Zone – Alan Chapman received a cheque for £500 from Middlesbrough FC representative Mark Ellis towards a new floor for the charity, which provides affordable kickboxing, dance, fitness and Olympic weightlifting classes for people in South Bank, Grangetown, Eston and Middlesbrough.
Hartlepool Access Group – Janet Jones of SABIC presented £500 to Fiona Campbell to help cover the cost of providing a shopmobility scheme for people with disabilities and illnesses.
Volunteer Fulcrum – Tracy Brooke of Glanbia Performance Nutrition presented £500 to Tina Clarke and Jo Malone for specialist training for volunteers at a Middlesbrough-based charity tackling the effects that substance misuse has on people, children and families.
Also receiving cash but unable to attend the event were Daisy Chain – £750 to provide activities for children with autism and respite for their families in Teesside, and Child Deaf Youth Project – £750 to support running weekly North Ormesby youth clubs providing educational and social activities, with deaf youth workers.
Foundation chairman, Andy Preston, said: "I congratulate every one of the organisations that are benefiting from a share of the money.
"It's heartwarming to know that the Foundation is giving ten champions of the local community a real boost, as part of our ongoing commitment to making Teesside a better place in which to live, work and do business.
"We can only make that sort of an impact thanks to the great generosity of local businesses and individuals who are committed to making Teesside a better place to live and work."
Middlesbrough FC, who supported the Goalden Giveaway, are patrons of the Foundation alongside businesses such as Bulkhaul, The Endeavour Partnership, Cool Blue, Erimus Insurance Brokers, Cleveland Cable and AV Dawson.
A similar £10,000 giveaway by the Foundation in December saw money shared between Redcar Development Trust, the Sea Cadets, Tees Valley Wheelchair Sports Club, Middlesbrough District Scouts, Freebrough Academy, MAIN (Taking Autism Personally), The Unicorn Centre Riding for the Disabled, Middlesbrough Disabled Supporters Association and South Cleveland Heart Fund.