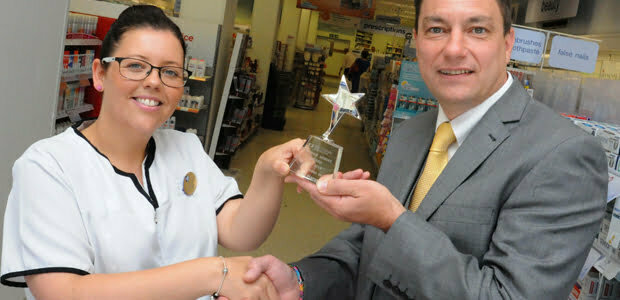 An unsung champion of Guisborough has been recognised as a Teesside Hero for her active role supporting local causes while encouraging the town to lead a healthy lifestyle.
Over the past 12 months Jane Harvey has carried out sponsored runs and swimathons in support of a range of local good causes whilst leading a push to get Guisborough moving.
Her efforts have raised thousands for causes including 4Louis in memory of local girl Charlotte Hannah, Cancer Research, Macmillan Cancer Support and five local primary schools.
Now, as a Teesside Hero, she has received £1,000 from Middlesbrough and Teesside Philanthropic Foundation for a cause of her choice.
The money will enable Skelton parents Paul Dyke and Kirsty Gilvey to purchase a specialised car seat for their six-year-old son Charlie.
Diagnosed with two forms of cerebral palsy, Charlie is unable to lead a normal life, as he will never walk and suffers from serious breathing problems, learning difficulties and poor vision.
Bringing up Charlie and his three older daughters – Emily, 13, Katy, 11 and Aimee, eight – Paul and Kirsty had struggled to raise sufficient funds for the £1,000 car seat.
But now Jane's donation via the Philanthropic Foundation means they can buy the seat that will give Charlie the support he needs – and they can share the £700 they had already raised between the Cleveland Unit at James Cook University Hospital and Brotton-based special school, KTS Academy.
"I'm as proud as punch to have won the award," said Guisborough-born mum-of-two Jane. I'm a proud local girl. I thought I hated Guisborough when I was a teenager so I moved away – but I came back and now I couldn't imagine living anywhere else because I love the town and the people."
She added: "I wanted to help Paul and Kirsty, as we've known each other for many years, but I would never have had £1,000 in my pocket to give them – until now.
"I'm just so happy to be able to help – while they are also now able to say a £350 'thank you' to the Cleveland Unit and KTS Academy for all the support they've given them."
Jane started to turn around her own life 12 months ago after taking up a role at Boots on Guisborough High Street with a new NHS project called Healthy Living Pharmacy that places local pharmacies as health services at the heart of their communities.
Made the store's healthy living champion, she started to practice what she preached by changing her own life for the better.
Determined to lose weight, she joined forces with friend Catherine Dewing to set up local running and walking groups.
Despite never having run since her school days, Jane raised more than £1,350 for the 4Louis charity in memory of local girl Charlotte Hannah when taking part in last year's Tees Pride 10k. The money went towards cuddle cots that give parents extended time to say a final goodbye when losing a child through stillbirth or neonatal death.
She encouraged Boots colleagues to collect unwanted clothes, toys and brick-a-brac for Cancer Research Fund and they then raised £1,400 for Macmillan Cancer Care by selling cakes and holding in-store raffles.
More recently, she took part in Race for Life at Ormesby Hall, joined pharmacy staff in a Sport Relief swimathon at Guisborough Baths and amazed herself by completing the Sunderland Half Marathon, raising £1,000 for equipment and books at local primary schools, St Paulinus, Highcliffe, Galley Hill, Chaloner and Belmont.
Jane, who is married to Andrew, said: "I've had certain things go on in my life and people were there for me when I needed them. I had demons I needed to face and was struggling to cope on a day-to-day basis.
"When I needed counselling, it didn't cost me anything because it was provided by a charity. Afterwards it struck me that if others hadn't helped that charity then my life wouldn't have been what it is now.
"Doing what I do is my payback. I'm in a happy place and I plan to carry on giving and helping."
Boots colleague Lindsay Clode, who nominated Jane for the award, said: "Jane describes herself as 'Just Jane' – but to everyone else she is inspiring, courageous, selfless, thoughtful, motivated, beautiful, loyal, hardworking, kind and just amazing to know. Just Jane is an amazing lady – my best friend, colleague and hero."
Her nomination was supported by Healthy Living Pharmacy project manager Sandie Hall, who added: "Jane's enthusiasm and determination to make a difference to other people's lives has driven her to achieve amazing results. She has walked the walk to become a healthier individual herself. She is a true community champion and an inspiration to so many."
Jane received her Teesside Heroes Award from Nigel Willis, managing director of Redcar firm First Choice Labels, one of more than 30 generous patrons of the Philanthropic Foundation, which is dedicated to making Teesside a better place to live and work.