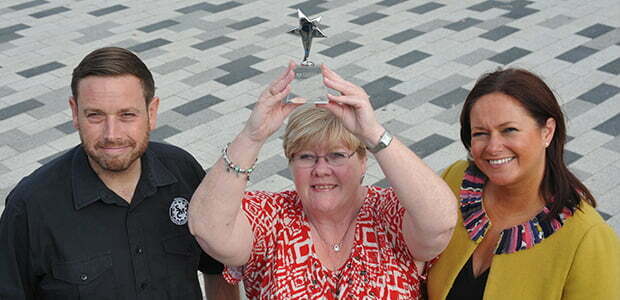 A TIRELESS community volunteer who gives up countless hours helping to make Billingham "a special place" has been revealed as the latest winner of a Teesside Heroes Award.
Pat Chambers works full time but still manages to raise money for a wide range of charities, organise events throughout the year and is also editor of Billingham Community Newspaper.
She wins a trophy and £1,000 from charitable movement Middlesbrough and Teesside Philanthropic Foundation to give to a good cause of her choice.
Foundation chairman Andy Preston, who nominated Pat for the award, said: "Over three years I've seen some of the amazing things Pat achieves for Billingham. I'm not exaggerating when I say that Billingham, and in fact Teesside, would be worse off without Pat Chambers. Bravo Pat!"
The Teesside Hero award was presented by Andy's fellow Foundation patrons Mark Smith of Billingham-based Stockton Machine Company and Claire Watson of chemical giant SABIC, who have key operations north of the river.
"I'm absolutely blown away," said Pat. "It's not often that I'm speechless but I am now!
"I'm a single parent and I work full-time but I also volunteer a lot because I want the very best for my community and I like to feel I encourage and inspire other people to want to make a difference too.
"I'm a firm believer that to help everyone feel part of one big community, we just need to help each other.
"I believe we live in a fantastic place filled with good people and in the Billingham Community Newspaper I like to shine a light on people doing good things."
Pat's voluntary workload includes organising Christmas in the Clarences, ensuring the Christmas spirit is felt in a neighbouring community that is isolated due to its limited transport links.
"The Clarences is a community that used to have four churches and now has none," she said. "This is an opportunity to get Billingham residents down there and to take Christmas to the Clarences."
The mum-of-two also:
Set up a local branch of anti-drugs group DARE (Drug Abuse Resistance Education).
Is a board director at The Five Lamps Organisation, which focuses on social and financial inclusion, social enterprise, employment and youth outreach services.
Raises cash for organisations including Billingham Legacy Foundation and St Michael's Roman Catholic Academy.
Encouraged volunteers to help Billingham Environmental Links Programme.
Organises an annual pensioners' Christmas party.
"I'm currently the event organiser for Billingham Carnival and Horticultural Show, which will welcome between 15,000 and 18,000 over the weekend of September 13 and 14," she said.
"It includes the Britain's Strongest Man competition and the winner will go to the USA to take part in the World's Strongest Man event.
"I've just been out this morning hanging flags all across the High Street before I began my real job – that's how bizarre things can get!"
Pat is originally from Carlisle but moved to Billingham when she was 21. Despite spells in Harrogate and Exeter, she has always gravitated back to a place she believes is very special.
"It was built up to support ICI and has always had a family ethos and culture," she said. "We've got 12 primary schools feeding two secondary schools and a college and in many ways it's like an overgrown village."
Pat is giving the money to the Billingham Legacy Foundation, an independent charitable grant-making body for the benefit of the people of Billingham.
"The Philanthropic Foundation has been very good to Billingham as a community, giving us money for our community pageant, helping us save our bandstand when it was under threat and now assisting with the Horticultural Show.
"There are so many people who are more deserving of this award than me and I'm very, very grateful and honoured to even be considered for it."