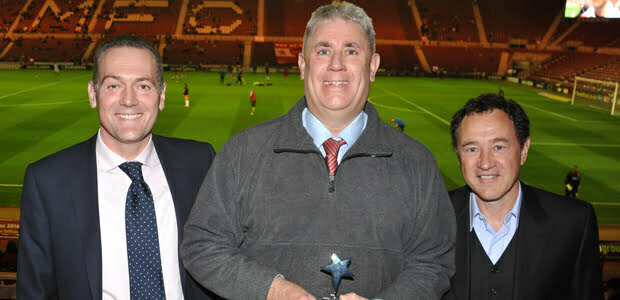 STEVE Gibson has hailed the unsung community work of 'Voice of the Boro' Alastair Brownlee after presenting him with a Teesside Hero award.
The Boro Chairman presented the award to the BBC Tees presenter in recognition of Alastair's unheralded commitment to local community causes.
The Boro commentator wins a trophy and £1,000 from charitable movement Middlesbrough and Teesside Philanthropic Foundation to give to a local good cause of his choice.
He has asked for the donation to go to Zoe's Place Baby Hospice.
Both Middlesbrough FC and Gibson's Teesside-based company Bulkhaul are patrons of the Philanthropic Foundation, along with more than 30 other generous local firms and individuals.
Gibson said: "Alastair Brownlee has been commentating on Boro in his immediately recognisable, flamboyant and exuberant style for as long as I or most supporters can remember.
"He is part of the fabric of not only the football club but the town and Teesside.
"What is perhaps less well known is the fantastic work Alastair carries out without fanfare for a wide range of local charities and good causes. He absolutely deserves this award."
Lifelong Boro fan Brownlee, who was born and lives in Middlesbrough, knew nothing about the award until he was pulled off-air by fellow presenter Mark Drury to receive his surprise accolade shortly before the club's Riverside match with Blackpool.
After receiving the award from Gibson and Foundation chairman Andy Preston, he said: "I was absolutely delighted to receive such an accolade at the Riverside, which is a place that's naturally close to my heart.
"But the icing on the cake was for the award to be presented by Steve Gibson, who for me is the very definition of a Teesside Hero after all that he has done and continues to do for the football club."
He added: "I'm really lucky to do the job I do with BBC Tees, so if I can give something back to the area then I'm happy to be able to do it.
"Charities and community groups are finding it tough to raise money to keep going for so many terrific causes. I'm just pleased to do what I can. If we don't support them then we'll lose them."
Alastair supports numerous local charities and good causes in his own time, including several associated with his beloved Boro.
Along with Boro and Bulkhaul, the Philanthropic Foundation's corporate patrons include Erimus Insurance Brokers, Endeavour Partnership, Glanbia Performance Nutrition, Macks Solicitors, SABIC, AV Dawson, Ecco Finishing Supplies, Devereux Transport, Evolution, Visualsoft, Stockton Machine Company, First Choice Labels, Unasys, Cleveland Cable Company, px Group, Active Chartered Financial Planners and Cool Blue PR.
Along with Bill Scott, individual patrons are Andy Preston, Nigel Williams, Ian Tracey, the McCullagh family, Rob McLaughlin, Ali Miremadi, Steve Nichols, Barney Ord, the Wadsworth family, Simon Scotchbrook and the Sizer family.