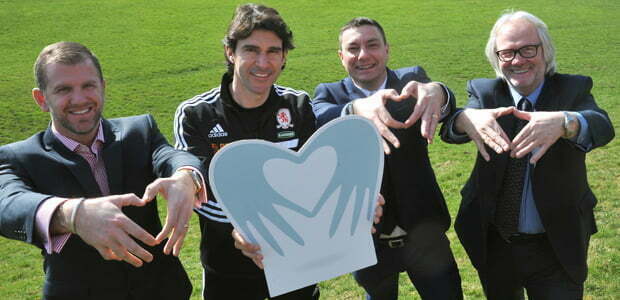 TEN Teesside community champions have been selected to receive a share of £10,000 – but now face a public vote to decide just how much they will receive.
Dozens of local charities, community groups and schools applied for Middlesbrough and Teesside Philanthropic Foundation's Boro-backed £10,000 Goalden Giveaway.
A panel of the charity's patrons have drawn up a shortlist of 10, who must now encourage their supporters to vote for them in a public poll on the Foundation's official website at www.teessidecharity.org.uk.
The cause winning most votes will receive not only £2,500 but a visit from two Boro stars.
The full list of Teesside causes selected for the public vote in the £10,000 Goalden Giveaway is:
My Sister's Place – to cover counseling sessions, self-help material and awareness for women affected by domestic violence.
Breckon Hill Community Enterprise – for an issue-based youth provision rewarding 11-17 year-olds in Middlesbrough for good behaviour with opportunity to take part in kayaking, canoeing and other sports.
Loftus Dolphins Swimming Club – towards a bursary scheme to help cover costs for children from less privileged backgrounds.
Community Campus in Stockton – to purchase tools and equipment for apprentices who are helping to convert derelict houses for homeless and others in need of support.
Pennyman Primary Academy in Middlesbrough – for specialist equipment to allow 55 children with physical, medical and learning needs to take part in sports such as archery, boccia and curling.
1st Saltburn Scout Group – for urgently needed refurbishment to a scout hut that has missing doors, holes in walls and peeling paint.
Tapshoes & Tutus School of Dance and Respect Theatre – to buy equipment for those with learning and physical disabilities including wireless head mics, PA system, T-shirts and gym mats.
Swerve Table Tennis Club – to cover the cost of bats, ball and heating for a facility based on Middlesbrough's Beechwood estate.
The Trinity Holistic Centre at James Cook University Hospital – to expand their in-patient bedside and counseling services for cancer patients and their families.
Middlesbrough Live at Home Scheme – providing activities, lunches, home visits and shopping service to reduce loneliness and isolation for over-60s.
Supporters of the 10 finalists and members of the public now have an opportunity to vote via the charity's official website www.teessidecharity.org.uk for the good cause they believe deserves the biggest share of the money.
While the group receiving most votes will win £2,500, the second-placed charity will receive £1,500 and those placed third to fifth £1,000. There'll be £750 for the finalists getting the sixth and seventh most votes and £500 for the remaining good causes.
The Foundation's trustees also agreed to give £250 each to eight applicants that narrowly missed out on the public vote.
They are Marske Community Partnership, Kidz Konnekt of South Bank, Cargo Fleet Junior Football Club, Teesside Ability Support Centre, Investing in People and Culture for Middlesbrough-based refugees, Stockton charity People Linking at Newtown Together (PLANT), adult disability group Our Version of Events and NEPACS for children visiting parents in prison.
The public poll – which is restricted to one vote per person – opens at 9am on Wednesday, November 12 and runs through to midday on Friday December 5.
The Goalden Giveaway panel featured Foundation patron representatives Mark Smith of Stockton Machine Company, Nigel Williams, Glyn Pemberton of Active Chartered Financial Planners, Jo-Ann Swinnerton of Middlesbrough FC and Foundation chairman Andy Preston.
Mark Smith, managing director of new Foundation patrons Stockton Machine Company, said: "I didn't know there were so many small but great local community groups and charities in the area run by people with a love and passion for what they do.
"It's no exaggeration to say it makes me proud to come from Teesside to hear about that commitment we have to looking after each other."
This is the third time in 12 months the Philanthropic Foundation has held a £10,000 Goalden Giveaway for Teesside community groups. Previous winners of £2,500 were Tees Valley Wheelchair Basketball Club and Middlesbrough Powerchair Football Club.
Thanks to generous local companies and individuals, the Foundation recently celebrated a £750,000 fundraising milestone just three-and-a-half years after forming. All funds raised stay on Teesside.