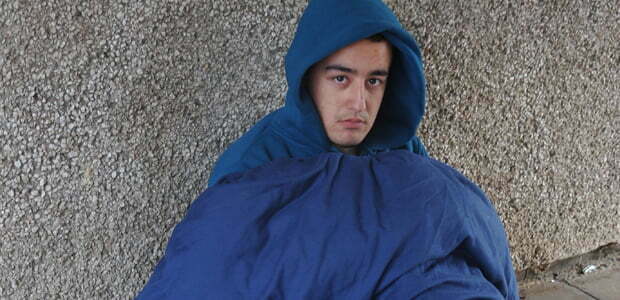 A former soldier is set to sleep rough in his fight to raise awareness of the "heart-breaking" plight of ex-servicemen who struggle to adapt to Civvy Street on Teesside.
Anas El-Hamri has vowed to help those soldiers who end up sleeping rough after they leave the army by taking part in the Big Tees Sleepout outside Middlesbrough College on Friday, November 21.
"I want to raise money for the homeless but I also want to raise awareness of the plight of those former soldiers who end up on the streets," Anas, who joined the army at the age of 16 when he left King's Academy in Coulby Newham, Middlesbrough.
"I know for a fact that you get a lot of people leaving the army and finding themselves without a roof over their heads, which is completely unacceptable.
"They turn to drink and drugs to cope with the terrible things they have been through in places like Iraq and Afghanistan. They don't access the right help.
"And then they find themselves without a place to live and sleeping rough, mainly in the big cities like London but also places like Middlesbrough as well or even in prison. It is heart-breaking."
Life with 2nd Battalion The Yorkshire Regiment took him to Germany, Kenya and Cyprus. But Anas, who is now looking to go into security work, knows from his own experience that life after the army can be a struggle.
"I left the army due to a hand injury but also because I thought the grass was greener," added the 20-year-old, who lives in Middlesbrough. "But I was effectively on the streets myself at one point because I was classed as homeless.
"I was never on the street but me and my wife were on the edge. If it wasn't for my mother it could have been a different story because she really helped me out. Now we've got stable accommodation.
"Some ex-soldiers are less fortunate. They can find it hard to settle because they're used to a routine. When they leave the service, they lose those routines their lives revolved around, so when that is taken away it's like a rug is pulled from under their feet."
Now Anas wants to do his bit to tackle homelessness across Teesside and make residents think differently about those who live on the streets.
"I want people on Teesside to know that there are ex-Forces people out there on the streets. It's a crying shame because they were prepared to give up their lives for their country," Anas said.
"I am trying to change public perceptions. When people are passing those who are clearly living on the streets and they call them a 'tramp', I want them to know that they could be putting down a person who has defended the country so they can sleep safely in their beds at night in their nice warm homes.
"I know quite a few people who have been on the street. Things need to improve which is why I hope as many people as possible support the Big Tees Sleepout."
Three previous Big Tees Sleepouts have helped raise around £35,000 for local people in desperate need.
This time organisers Middlesbrough and Teesside Philanthropic Foundation are raising funds for a range of local homeless charities and food banks, whilst helping to significantly raise the profile of homelessness across the region.
Among the causes set to benefit include Middlesbrough Homeless and Recovery League, the Salvation Army's Christmas appeal and the Stockton-based Moses Project that puts on Christmas Day lunch for addicts, homeless and struggling families.
To sign up for the Big Tees Sleepout, visit www.bigteessidesleepout.co.uk and start fundraising via the justgiving link. Participants be aged 16+ and must register online in advance.