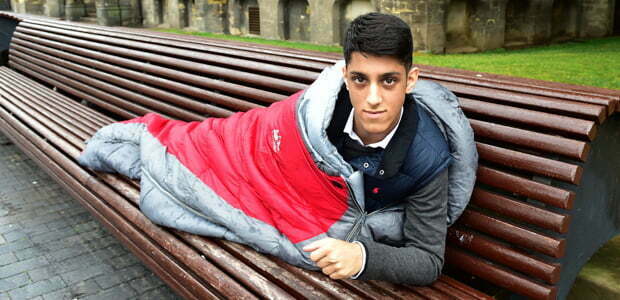 Young politician Trib Gosain is preparing for a day of contrast when he goes from one political extreme to the other in a bid to help homeless people on Teesside.
The 17-year-old will swap the opulence of the Houses of Parliament for a night of sleeping on the streets of Middlesbrough on the same day.
Trib has signed up for the Big Tees Sleepout, a fundraising event challenging people to sleep rough for one night to help in the fight against local poverty and homelessness.
First, Trib will head to the House of Commons for a series of debates as part of his role as the Middlesbrough member of the UK Youth Parliament.
And then as soon as the voting is over at Westminster debates, he will dash back to Teesside to take part in the sixth Big Tees Sleepout, which will take place outside Middlesbrough College on Friday, November 13.
The first five sleepouts have seen about 450 people raise more than £60,000 for local food banks, homeless shelters and charities committed to helping those in poverty on Teesside.
"It's a day I'm looking forward to immensely but there will be a mixture of excitement and trepidation," admitted Trib, who lives in Hemlington, Middlesbrough.
"It's incredible to think that on the same day of the Big Tees Sleepout, I'll be debating in the House of Commons so it will be a day of amazing culture shocks.
"I'll go from the splendour of Westminster to a night under the stars, sleeping on a harsh, unforgiving concrete floor.
"It's fair to say I'm a bit worried about sleeping out but no matter how uncomfortable it is, I know it will be worth it."
Trib, a student at the town's King's Academy, says he is taking part because he is certain the Big Tees Sleepout will turn the local spotlight on a cause he feels is too often overlooked.
"I've always been interested in politics because I want to change things for the better and so it will ultimately be a win-win situation,' he said. "It will be a real shock to the system but that's everyday life for many people who are homeless.
"And it typifies what homelessness can be like because one minute they've got a roof over their heads and then the next they're on the streets.
"Sometimes there's no real warning with homelessness. It just happens. At least I'll be psyched up.
"It won't be pleasant and it won't be fun but that is reality for too many people on Teesside and it needs highlighting.
"It's an issue that is forgotten about, especially in towns like Middlesbrough where there are so many social problems."
Trib will be accompanied by a few friends and is pleased the Big Tees Sleepout is attracting more and more attention among younger people.
He said: "I don't think there is enough support out there to help the homeless but this will make things better for the future.
"Too many people just think it's your own fault and you should be left to get on with it. That's not the way to look at it. The Big Tees Sleepout will make people think again.
"It is a major issue. Homeless people are suffering and that's just not on in this day and age."
Organised by charitable movement Middlesbrough and Teesside Philanthropic Foundation, the sleepout aims to raise as much money as possible for those suffering poverty or homelessness, whilst shining a light on the issues.
For more details or to sign up for the Big Tees Sleepout, visit www.bigteessidesleepout.co.uk. Participants must be aged 16+.