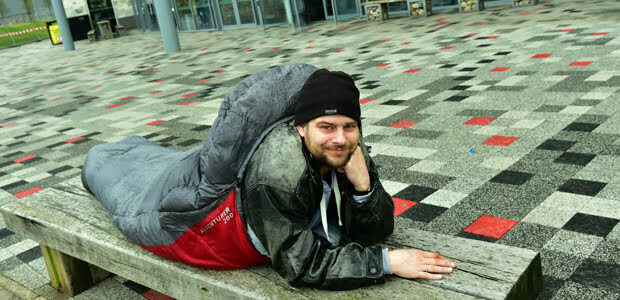 By his own admission, Will Forbes is a "glutton for punishment".
The 37-year-old conceded that he possessed that character trait as he signed up to take part in the Big Tees Sleepout for the fifth time in two years.
He has committed himself to braving the elements in November to help homeless people on Teesside.
"I've taken part in all bar one of the previous Big Tees Sleepouts because I feel passionately about the need to tackle poverty and homelessness," said Will.
"I wouldn't say I'm looking forward to the next one because sleeping rough is never something that's nice, so I suppose it shows I'm a glutton for punishment."
Will is one of the first people to have signed up for the sixth Big Tees Sleepout which will see scores of people brave the elements to raise awareness of and funds to fight homelessness and poverty on Teesside.
Will, who lives in Middlesbrough, added: "I was an army cadet so I've become familiar with sleeping in worse conditions.
"That said, giving up my home comforts to help people who are not fortunate enough to have a roof over their heads is still a big test.
"And it means a lot to me because I know how easy it is to become homeless. It's almost happened to me a couple of times. I've had to ring a landlord begging for extra time to pay the rent because benefits have been delayed."
Organised by charitable movement Middlesbrough and Teesside Philanthropic Foundation, the sleepout aims to raise as much money as possible for those suffering poverty or homelessness, whilst shining a light on the issues.
Since holding the first sleepout in March 2013, the five events have raised a combined total of £67,000.
Will, who works for one of the Foundation's newest patrons Barclays Middlesbrough, will be among those hardy souls who curl up in their sleeping bags on the pavements surrounding Middlesbrough College on Friday, November 13.
"It might make for a rough night but the next morning you get to go home and have a shower and have a bit of a sleep," Will continued.
"A night under the stars puts things into perspective, as one night of discomfort is not that big a deal.
"But the folk who I am doing this for wake up the next morning and have to work out where their next meal will be coming from and where they will be sleeping that evening."
Will is also concerned that there is a rising number of former soldiers who fall on hard times and end up being homeless.
"It's the sort of thing that seems to be affecting more and more ex-servicemen and I don't know why we are not doing more for them," he said.
"Many have to leave the army due to injury or stress-related problems. They're back on civvy street and are just told to deal with it, which sometimes they can't cope with and struggle to adapt.
"That's why the Big Tees Sleepout is so important – it helps raise money for local charities but it helps increase awareness of homelessness as well, which is just as important because we need to change things for the better and be more understanding."
For more details or to sign up for the Big Tees Sleepout, visit www.bigteessidesleepout.co.uk. Participants must be aged 16+.