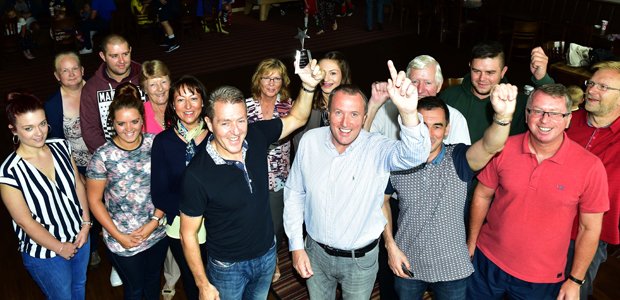 A Teesside football club chairman who grew up wondering why his hometown didn't have its own team has won a special award after securing its place on the sporting map.
Martin Hillerby, chairman of Stockton Town Football Club chairman, was taken aback when handed a Teesside Heroes award.
The award was presented by Wilton Group chief executive Bill Scott, a patron of Middlesbrough and Teesside Philanthropic Foundation, as a mark of Martin's leadership in the community.
It follows years of sterling work that have seen the club – based on Bishopton Road West – flourish on and off the field with hundreds of footballers now on its books and the development of facilities fit for a prosperous future.
"I grew up as a Stockton lad wondering why Stockton didn't have a football team," Martin said.
"Nowadays, 300 kids are on our books and you'll see a group of 30 or 40 pensioners who follow their team everywhere because they've always wanted a football club in Stockton again which shows how much it matters.
"We've created a true community club where there's something for anybody who wants to be involved, whether it be volunteering, playing, spectating, refereeing, coaching or managing. That makes me particularly proud."
Martin, an electrical project engineer who lives in Fairfield, has seen the club thrive from small beginnings to now boast fantastic facilities – including a new 3G pitch – that will help build on current momentum throughout the ranks.
He said: "The feedback when you get 300 kids turning up to coaching sessions is great. We've got more than 70 volunteers who are the backbone of the club and make me optimistic about the future."
The club has topped the Wearside League for last three years running and last season triumphed by a record number of points as well as winning all three cups that were up for grabs.
But it is the Respect award for the entire league, which gives Martin particular satisfaction.
"That was voted for by our peers and it down to us playing football in the right way with the right discipline and right attitude," he said.
"Along with winning every trophy available, our approach to fair play, sportsmanship and respect say a lot about the attitude and atmosphere we're trying to build at the club."
Martin, who was nominated for the award by Mick Flynn of Foundation patrons Unasys, says he was "flabbergasted" when he received the Teesside Hero award which also means he will be able to donate £1,000 to a charity of his choice, which he will decide in conjunction with the club.
Foundation patron Bill Scott, chief executive of Port Clarence-based Wilton Group, was proud to present the award to a man who succeeded his good friend, the late Alan Brown, as club chairman.
"The football club was one of Alan's passions so I've been delighted to see Martin take over that mantle from him and really build on his legacy," Bill said.
"He's just one of those guys who are honest and hard-working, who have full-time jobs and yet puts lots of effort into their part-time passion, which in this case is Stockton Town.
"He is just a very genuine, lovely guy and everyone who knows him wants to do something with him and for him."
If you think you know a deserving Teesside Heroes Award-winner, then send your nomination and up to 500 words about them to info@teessidecharity.org.uk