Auction
Mackenzie's Knight Shift for Hometown

Art lovers and proud Teessiders need to act now to bid for a striking print by renowned artist Mackenzie Thorpe.
Middlesbrough-born Mackenzie has released an exclusive limited edition print called 'Knights' especially to raise funds for the Middlesbrough and Teesside Philanthropic Foundation, dedicated to helping local people in need of financial support.
And for a truly unique piece of art you have the opportunity to bid for the number one print, which will be particularly desirable as Mackenzie has personally hand embellished it, drawing straight onto the print to make it a one-off. Bids start at £1,500, with the final bids taking place at Friday's ball.
Mackenzie created 'Knights' in pastel a couple of years ago as a tribute to the working men who made Teesside a major industrial force, leading the world in iron, steel, shipbuilding and chemicals.
It's Mackenzie's generous contribution to the Foundation's second fundraising ball, Fire and Ice, taking place at Middlesbrough Town Hall this Friday (October 5).
Showing a working man on his way to work, set against the familiar industrial backdrop of Teesside, a strictly limited edition of just 15 prints have been made available of 'Knights'.
Mackenzie, who himself worked on the old Smiths Dock and in a foundry before becoming a full-time artist, said: "It's a tribute not only to my granddad and Dad but all the working men of Middlesbrough and Teesside.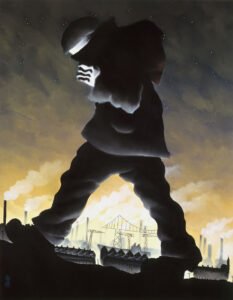 "It's paying homage to them all – men that gave so much to make our town what it is. I would love to see this piece as a sculpture, a monument, standing about 35 feet tall, and an acknowledgement to all the men that helped make this area an industrial giant.
"I see monuments around of people like Bolckow and Vaughan but nothing of the working men, who gave their lives to Teesside and the industries. There's no recognition for them anywhere.
"My granddad – and many thousands like him – would go out to work, day and night, no matter what the weather, and never had a day on the sick."
Mackenzie has promised to donate all profits raised from each £1,500 print to the Philanthropic Foundation – and with six sold within hours of being released, Teesside art-lovers are urged to act fast.
Having delivered a passionate speech about his love for Teesside at last year's ball, helping to raise £41,000 for the Foundation, Mackenzie is looking forward to Friday's dinner.
"What the Foundation is doing is providing hope and daylight for the next generation of Teesside workers," he said. "The business people who buy these prints will hopefully put them up in their offices. Visitors will then ask them about it and they will tell them that it's paying homage to the men who built this place.
"There are only 15 of these prints available, so it is going to be a very small and select group of collectors who will end up owning them. I know one of them has already been sold to a businessman in Bristol, so the imagery and legacy of Teesside will not just be limited to our area.
"Giving those great men the recognition they deserve while raising much-needed money for this area is a perfect combination for me. I haven't lost an ounce of passion for this area. It's my identity. The first 25 years of my life was total absorption of Middlesbrough."
Foundation chairman Andy Preston said: "We are bowled over that, for the second successive year, Mackenzie has generously donated a rare piece of his own artwork for a cause we all passionately believe in."