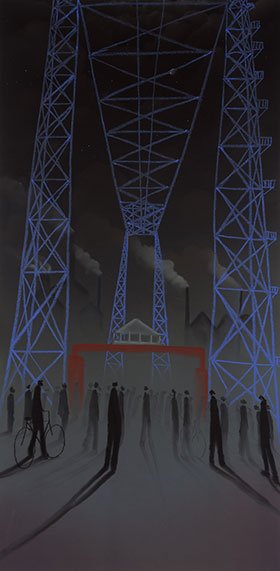 A generous donation from world-renowned artist Mackenzie Thorpe is set to add a major boost to the funds of the Middlesbrough and Teesside Philanthropic Foundation.
Middlesbrough born Mackenzie has given an original painting to be auctioned as part of the charity's 'Transporter Bridge 100th anniversary' fundraising drive.
The painting entitled 'Lady of the North' shows an industrial scene featuring the Transporter – in keeping with the theme of the heritage of the town. The 43 inches by 22 inches painting has a value of around £12,000.
Bids will be taken in advance of the charity auction to be held at the charity's celebration ball on Friday, October 28 – with the hammer coming down on the winning bid on the night.
MTPF chairman Andy Preston said: "Mackenzie is a well known supporter of the town and the area and to receive the offer of an original piece of art is fantastic and most generous.
"Being from the region Mackenzie understands what a difference we can make to lives through our group – for example we are supporting apprenticeships which are giving young people a start in life and hope for the future."
Fellow founding trustee,Tanya Garland said: "It is important that the wider world gets to know that Middlesbrough is much more than just an industrial town. It has a thriving cultural life and Mackenzie Thorpe is one of our valued exports."
Mackenzie will also speak at the dinner to be held at Middlesbrough Town Hall as the culmination of the anniversary celebrations. The dinner and its setting reflects the event that took place 100 years ago to mark the opening.
The charity auction on the night will also offer a number of gold sovereigns minted by Middlesbrough company Ramsdens to commemorate the anniversary.
Bidding has now closed online.