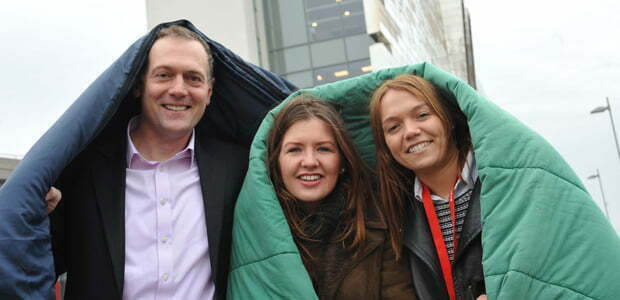 TEESSIDERS are being asked to spend a night in the cold to help raise funds to alleviate the "horrendous" situation that means many struggling local families will turn
to food banks this Christmas.
Dozens of big-hearted local people have already signed up to take part in the second Big Tees Sleepout after a similar fundraiser boosted homelessness charities in March.
Now organisers are challenging hardy souls to give up the comfort and warmth of their own beds for just one night to help local food banks provide much-needed provisions for struggling Teesside families.
They are being asked to spend a night in the November cold armed with no more than a sleeping bag, layers of warm clothing and access to toilets and a drinks machine.
With support from Middlesbrough College and local businesswoman Joanna Wake, Middlesbrough and Teesside Philanthropic Foundation aims to raise £10,000 via the sleepout.
Local food bank workers say the funds are desperately needed to provide emergency food to a growing number of people in financial crisis.
Nigel Perrott, project manager for Middlesbrough food bank, said: "A lot of people are finding it increasingly difficult to make ends meet. So many families are in a position where it is really easy for them to fall into crisis.
"People are having to find extra money to pay for their spare room, their council tax, for the increase cost of heating and lighting their homes, so there is no room to save for when something goes wrong.
"They can easily find themselves in a predicament of having to ask 'Do I keep the house warm or buy food?' It really is that tight for some people."
With Teesside unemployment rates among the UK's highest, Mr Perrott said food banks in Middlesbrough, Redcar, Billingham and Hartlepool are in constant need of non-perishable food that enables them to provide families in crisis with three days' worth of emergency food.
"There's been a real spike in demand for our service over the last six months," he said. "Nationally, in the six months between April and September this year food banks fed 350,000 people, trebling the number we dealt with during the same period last year.
"In Middlesbrough, we are now feeding in the region of 100 people per week. The situation is quite horrendous.
"We've got food coming in from churches, businesses and individuals but the challenge is to keep that going.
With Christmas around the corner, he believes the worst is yet to come. "We are waiting for what we call the tsunami of universal credit. When that kicks in we know the problem will increase substantially.
"A lot of people are suffering and face a bleak Christmas but it would be an amazing thing if as many people as possible took part in the Big Tees Sleepout for the benefit of local people who are really going to be struggling this festive season."
Organiser Joanna Wake, owner of Raw Marketing Company as well as running the Mary Portas pilot on Stockton High Street, urged Teessiders to either take part in the Big Tees Sleepout or dig deep to sponsor those who are taking part.
She said: "Our first Big Tees Sleepout in March was a dream of an idea that came to fruition with great success, thanks to the generous support of Middlesbrough College, the Philanthropic Foundation and all those who took part.
"The plan was to do another next March but there is a real need to help local people right now, while many of those who took part in the last sleepout or wished they had were keen for us to hold another at the earliest opportunity.
"The service food banks provide is something we can all relate to, especially at Christmas, so I would urge as many people as possible to commit to taking part by signing up, get cracking with their fundraising and be there on the night for an experience they will never forget.
"For those who can't be there for whatever reason then we'd ask them to visit our justgiving website and sponsor those who are taking part."
The Big Tees Sleepout takes place at Middlesbrough College on Saturday November 23 and Sunday November 24 from 7pm to 7am.
To sign up, for more information or to sponsor those taking part in the Big Tees Sleepout, visit www.bigteessidesleepout.co.uk.
Middlesbrough and Teesside Philanthropic Foundation is a charitable movement committed to making Teesside a better place to live, work and do business.
The Foundation has raised £500,000 for local causes since its formation just three years ago.
Winner of the Heart of the Community award for the Teesside region in the prestigious North East Business Awards, the Philanthropic Foundation has set up Middlesbrough Homeless Football Club, gave £41,000 to local charities and schools via the UK's biggest art competition and has helped to fund more than 40 local apprenticeships.