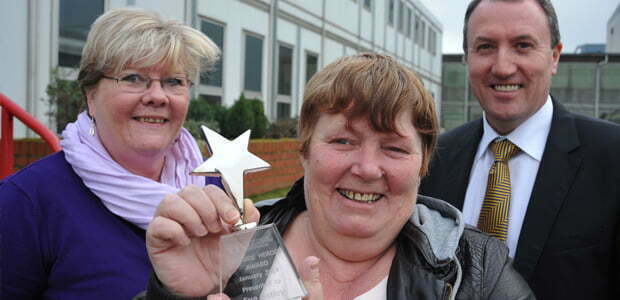 AN unsung community champion who came to her community's aid after devastating floods has become the first recipient of a Teesside Heroes Award.
Sue Gatley received a trophy and £1,000 for a good cause of her choice from Middlesbrough and Teesside Philanthropic Foundation.
The long-standing Port Clarence resident has chosen to donate the £1,000 prize to the Clarences Residents' Action Group (CRAG), a community organisation she chairs dedicated to making the estate a better place to live and play.
Sue leaped into action to save Christmas for the estate's families and children after floods brought on by a freak tidal surge threatened to ruin the festive season.
Dozens of homes in the riverside Clarences area were impacted by the tidal surge that brought contaminated salt water, laced with oil, sludge, silt and of course human slurry rushing into their living rooms and kitchens.
Sue was nominated for the award by friend Pat Chambers, editor of Billingham Community Newspaper, who said: "Sue is not someone who gets noticed, she just 'does' – she gets on with it, delivers results and deserves this recognition for the hero she truly is."
But modest Sue, who has lived in Port Clarence for more than 40 years, insisted: "I just did what anyone else would have done. It was a bad situation and someone had to do something. With Pat's support, I got on and did it. But that's me, I just get on with things."
Bill Scott, one of the Philanthropic Foundation's generous patrons who has helped raise more than £500,000 for Teesside causes in just two-and-a-half years, presented Sue with her prizes, which included a bouquet of flowers, a place on the Boro Brick Road outside the Riverside Stadium and a dinner voucher for Chadwick's in Maltby.
Bill, chief executive officer of the Port Clarence-based Wilton Group, said: "There are so many unsung heroes within our communities that do amazing work without fan-fare or reward.
"This new Teesside Heroes Award is all about recognising those community superstars whilst helping the Foundation distribute much-needed funds to some truly worthwhile causes across the area.
"Sue is an incredibly worthy winner of our first Teesside Heroes Award and has set the bar high for future candidates but we hope to receive many more nominations in the weeks and months ahead."
Having led a team that refused to give up on bringing Christmas to the Clarences when the flood devastated homes across the community just days before the big celebration, Sue helped 150 local children have "the Christmas of their lives".
While Pat made the calls to seek donations that brought food, replacement bedding, clothing and money to pay for fuel as the homes were dried out, Sue and her fellow volunteers ensured the gifts were given to those in most need.
Sue was quick to share the praise with her fellow volunteers Jane Hector and Sue McCabe, together with Sue's daughters Leanne and Caroline.
"The mess the floods caused was unbelievable and it was devastating for those whose homes were affected, but we were determined that the party had to go ahead, no matter what. But I honestly think what I did was nothing special."
Pat added: "I am so delighted for Sue to win this award for the tireless work she did throughout the devastating floods that impacted the community.
"She is a reluctant leader but she realises a leader is needed and has put long hours into helping people who are struggling to get their lives back together."
The Philanthropic Foundation's generous corporate patrons include Erimus Insurance Brokers, Endeavour Partnership, Bulkhaul, Glanbia Performance Nutrition, Macks Solicitors, SABIC, AV Dawson, Active Financial Services, Devereux Transport, Evolution, Visualsoft, Middlesbrough FC, First Choice Labels, Onyx Group, Unasys, Cleveland Cable Company, px Group and Cool Blue PR.
Along with Bill Scott, individual patrons are Andy Preston, Nigel Williams, Ian Tracey, Mark Bolland, the McCullagh family, Rob McLaughlin, Ali Miremadi, Steve Nichols, Barney Ord, the Wadsworth family, Simon Scotchbrook and the Sizer Family.