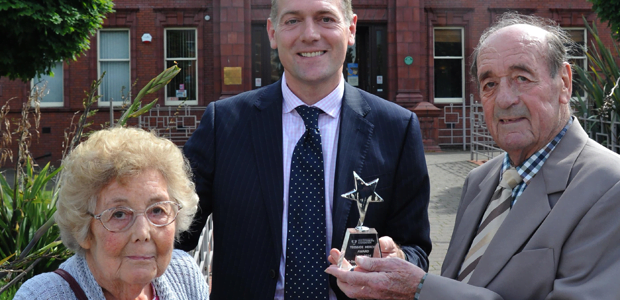 The family of a Teesside war hero who was the recipient of the only Victoria Cross awarded on D-Day 70 years ago have received another award in his name.
The son and daughter of the late Stanley E Hollis VC were presented with a Teesside Heroes Award to mark the 70th anniversary of the D-Day landings when the Middlesbrough-born sergeant displayed heroic gallantry in the face of the enemy.
The award was presented to Brian Hollis and Pauline Armistead by Middlesbrough and Teesside Philanthropic Foundation in memory of a man charity chairman Andy Preston described "a hero in the truest sense of the word".
The Teesside Heroes Award includes £1,000 for a local good cause, which the family plan to donate towards an exhibition commemorating her father's heroics at Middlesbrough's Dorman Museum.
A fundraising campaign led by Teessider Brian Bage for a bronze memorial statue of Stan to be erected outside the museum has recently reached its £150,000 target.
Born on Archibald Street in North Ormesby, Middlesbrough, Stan later lived in Robin Hood's Bay before moving back to his hometown before the outbreak of World War II.
He won his VC on June 6, 1944, in two tremendously brave actions for which he was twice recommended for Britain's highest military award.
First he single-handedly charged a hidden pill box with his Sten gun as his Green Howards comrades of the 6th Battalion spearheaded the invasion of Gold Beach to silence the key Mont Fleury gun battery.
Then later at Crepon, he saved two comrades trapped by deadly, concealed enemy fire which had killed eight comrades.
Explaining how she felt about receiving an award on her father's behalf, Pauline said: "I think it's wonderful, I really do. My dad was so proud of where he came from. He went away with and fought alongside many others from this area, so I think he'd be delighted with a Teesside Heroes Award."
Brian, who lives in Linthorpe, Middlesbrough, added: "I think Dad would be very pleased with such an award. He was a quiet man but he was very proud of being a Teessider – born and bred in North Ormesby."
Asked what they would do with her father's latest award, Pauline, who lives in Redcar, said: "I think we should put it in the Dorman Museum exhibition for all to see.
"I'm not sure my Dad was as proud of his VC as he was amazed. In his mind, he just did what he had to do. He used to keep the medal in a box with buttons and bottle tops – it wasn't put in class case or anything.
"Now it's on display in the Green Howards museum in Richmond and we hope to borrow it for display it at the Dorman.
"It's wonderful that so many people remember him as a hero. I just think of him as my dad. He was a wonderful father and grandfather, and my mother thought the world of him."
Foundation chairman Andy Preston said: "The charity normally presents Teesside Heroes Awards on a monthly basis to local community champions, the unsung volunteers who do great things without fanfare or financial reward.
"But Stanley Hollis was a Teesside hero in the truest sense of the term, so it's hugely fitting that we should commemorate his gallantry ahead of the 70th anniversary of his D-Day heroism.
"Given that Stan was the only man to receive a Victoria Cross on D-Day, everyone on Teesside and beyond should know his name, so the Foundation is proud to play its part in singing his praises."
As part of the award, Stan will also receive a place on the Boro Brick Road outside Middlesbrough FC's Riverside Stadium, featuring an inscribed brick that will read "Stanley E Hollis VC – Teesside Hero".
Middlesbrough FC and Steve Gibson's company Bulkhaul are patrons of the Philanthropic Foundation, along with many other generous local businesses and individuals including Cleveland Cable Company, AV Dawson, Erimus Insurance Brokers, Macks Solicitors, Glanbia Nutritionals, Devereux Transporter and Distribution, Evolution Business and Tax Advisors, px Group, Visualsoft, First Choice Labels and The Endeavour Partnership.